Hauppauge Store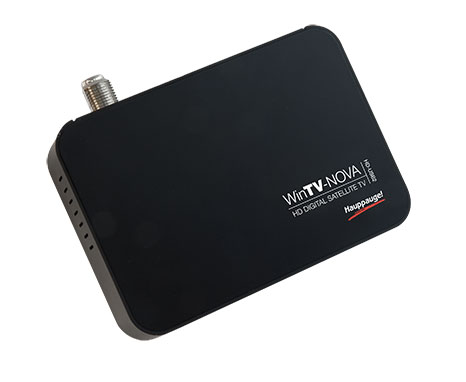 WinTV-NOVA-HD-USB2
Watch live Freesat and other HD satellite TV on your PC
Record HD satellite TV to your PC in the original HD quality
Features
Satellite HD TV (DVB-S and DVB-S2) receiver for your PC or notebook, connects via USB 2.0 port.
Watch free-to-air digital satellite and high definition satellite TV programmes on your PC screen, in a window or full screen! HD digital TV gives you the best audio and video quality, up to 1080i resolution.
New WinTV v7 HD software included! Pause digital TV with instant replay. See a guide of upcoming digital TV programmes. Schedule TV recordings with a few clicks of the mouse!
Record digital satellite TV programmes to disk using in the original MPEG-2 quality or record HD digital satellite TV programmes to disk in the original hi-definition format. Playback your satellite TV recordings at any time.
Listen and record DVB-S satellite radio.
DiSEqC 1.0 support.
Includes Hauppauge's ergonomic IR remote control for easy control of the TV functions.
Package Includes
WinTV-NOVA-HD-USB2 device with built-in DVB-S/DVB-S2 receiver.
Wall plug power supply.
1 Meter USB cable.
IR remote control transmitter and 2 batteries.
WinTV v7 HD Installation CD-ROM.
Quick Installation Guide.
System Requirements
Minimum processor recommended:

2.0 GHz Intel® P4 or equivalent for TV watching.
3.0 GHz single core or 2.0 GHz multi-core processor for HD TV.

Microsoft® Windows® 8, Windows 7, Windows Vista with 1 GB RAM or Windows XP Service Pack 3 with 512 MB RAM
Graphics with 64 MB of memory (minimum).
Sound card or on board sound.
USB 2.0 port (will not work with USB 1.1).
CD-ROM drive (for Software installation).
Satellite dish with Universal LNB (DiSEqC 1.0 supported).