Hauppauge Store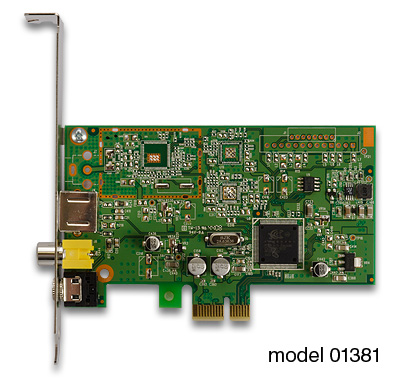 ImpactVCBe
model 01381
High performance video digitizers for industrial, security and video conferencing applications.
Video Capture
Video from any analog source (composite or S-Video) can be captured as either still frame video images or motion video. Composite video inputs are provided as female RCA jacks, while S-Video uses standard 4-pin DIN connectors.
Live Video Display
The ImpactVCB can display live video from NTSC or PAL video sources in a resizable window on the PC screen. The digitizing of the analog video signal and the resizing of the video image is performed by hardware on the ImpactVCB. After video is digitized and resized, the digitized video image is drawn by the ImpactVCB directly into the memory of the PC's VGA card. This uses a feature of Windows Direct Draw, and the ImpactVCB can be used with most VGA cards which support Direct Draw 5 or higher. This technique is used on Windows 7, Vista and Windows XP.
System Requirements
ImpactVCB PCIe Express model 01381 is designed for Windows 11, 10, 8, and 7
Linux support is available. See here